A Nightmare to Remember Press Release 2011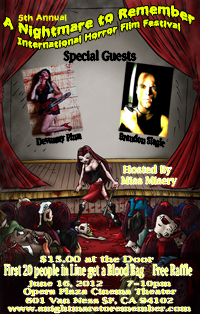 5th Annual
A Nightmare to Remember International Horror Film Festival
Hosted by Miss Misery
It will have been three hundred and sixty four days since the sublime dreams of San Francisco have been haunted by the ocular terrors congregated and unshackled by the creatively aberrant mind of Miss Misery. Her Nightmare To Remember Film Festival
shall forever reverberate its unseen yet still sentient, ghosting celluloid images upon the walls of the Opera Plaza Theater.
And yet as a year of setting twilight blankets the city by the bay, such social serenity shall yet once again face something awakening like a forgotten foreboding wickedness unseen and festering beneath the city streets. For something chilling has returned to San Francisco. Something, and someone keeping the essence of humanities unconscious ghoulish midnight fears within her bosom, has once again set sites upon the
Opera Plaza Theater in San Francisco California.
This June 18th in the year of 2011, the 4th annual A Nightmare to Remember Film Festival led by the cinematic succubae Hostess Miss Misery, John Gillette and Last Doorway Productions has returned. They have risen from its graven slumber to again seduce and taunt the creative blood of independent cinema.
A Nightmare To Remember Film Festival is a three hour journey into the consciousness of horror as visually represented through short film by local and national independent horror filmmakers. The night will bring more than just the showcasing of fledgling purveyors of cinematic fright. It is also a celebration, one awarding the top three short films for their representing of the virtue of horror.
The night also brings Special Guests:




John Stanley

Dave Reda
Director/Actor
Debra Lamb
Celebrity Judge
Scream Queen Actress (Evil Spirits)
Free raffle and prizes for the audience, the first 20 people in line shall receive a framed picture of Miss Misery being bitten by Dracula and proposed too by Frankenstein, artwork by Jason Dube!
As well as become entranced by the horror hostess of the film festival, Miss Misery.
June 16th
7 to 10pm
$15 at the door
Opera Plaza Cinema Theater
601 Van Ness Avenue S.F CA, 94102




We are a Judged Short Film Festival Featuring 20min and under Short Films and Trailers.

In this 3 hour film festival
2 hours are dedicated to all the featured short films and trailers and 1 hour for our special guests and prize give away's.

The first 20 people in line will receive prizes.



The following purveyors of horror cinema will be sponsoring the event:

www.comicbookdivas.com
www.amazingfantasy.com
www.scatteredcomics.comwww.fastcustomshirts.comwww.bleedfest.comMillennium Bug Movie www.rottencotton.comwww.novemberfire.comwww.phillychickpictures.com/
www.chainsawsally.org
www.dammitsf.com
www.deadhousemusic.com
www.fatally-yours.com
www.fearthedead.com
www.forbiddenpictures.net
www.fromthelandbeyond.com
www.horrornews.net
www.gaithergraphix.com
www.myspace.com/spefx1
www.sachorrorfilmfest.com
www.shock-it-to-me.com
www.thejoeflynnshow.com
www.thelastdoorwayshow.com



Admission to
A Nightmare To Remember Horror Film Festival
is a mere monetary sacrifice to the dark cinematic Gods of $10.00 (souls and free will are not accepted payment).
So my dear inquiring prey, prepare to expose your flesh and consciousness between the hours of
7-10 PM
this June 16 2012
for an event that shall never endingly disturb the most primal and darkest recesses of your psyche…You have been warned.



To Download a Microsoft Word version of this press release click here.